How does your company rate on Environmental, Social and Governance (ESG) measures compared to your competitors? Where are you leading the way, and where are you falling behind?
You want to have a thoughtful ESG strategy and get your ESG disclosures ready to share with regulators, investors, employees and consumers. The problem is, you don't know where to start.
You aren't alone. Hundreds of other global companies are in the same boat.
As a Purpose and ESG Strategy Expert, I'll walk you through the 4 crucial steps to developing your ESG strategy, process, and reporting.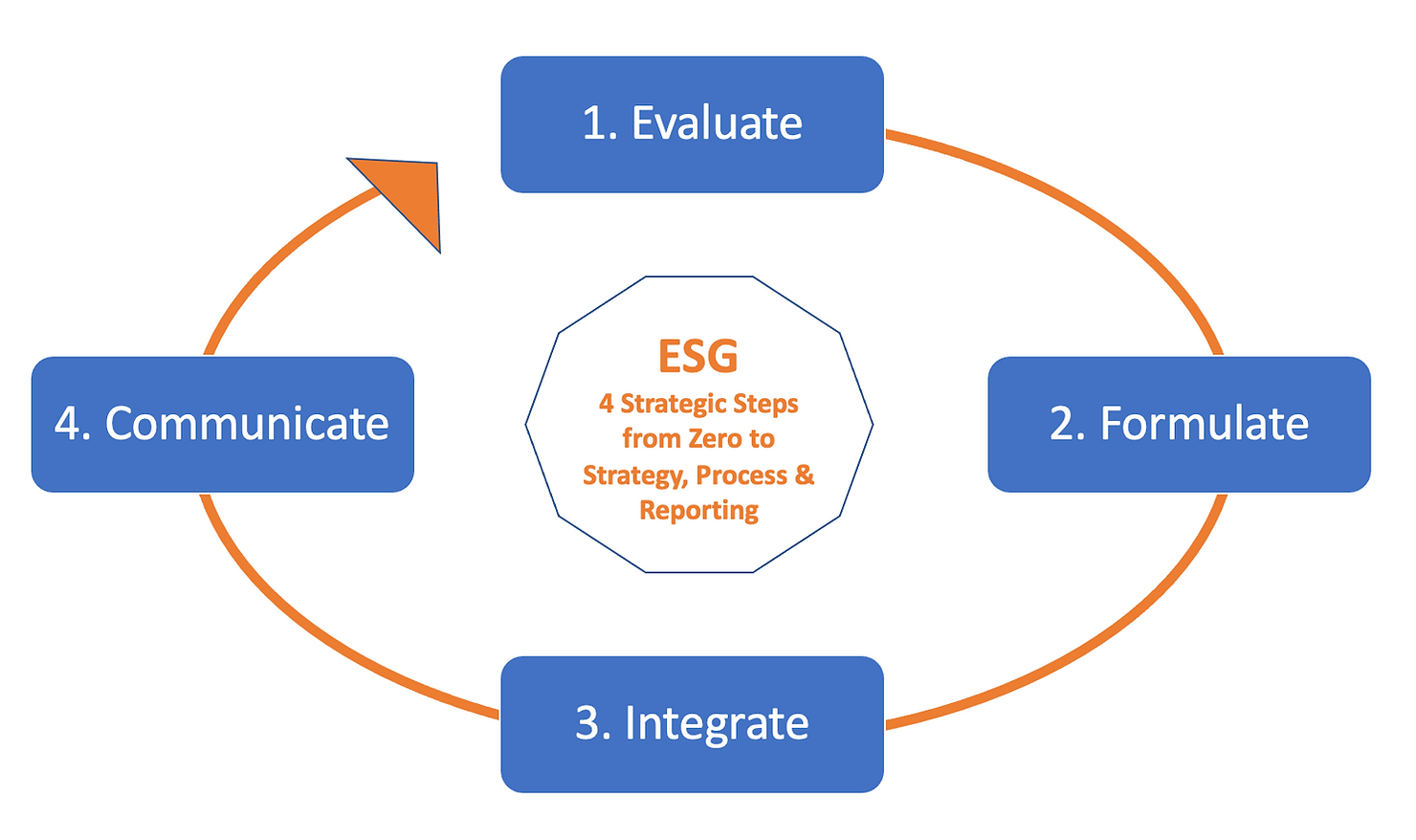 Step 1: Evaluate: Determine what matters. Baseline and benchmark.
There are two components to Evaluating. The first is to determine what matters and establish your priority ESG Topics.
ESG topics span a wide range and are not equally relevant or important across companies and industries. For example, ESG topics range from regenerating forests to increasing access to healthy food, from financial inclusion to reducing child mortality, from circular economy to data protection. It's important to take the time to understand what matters most to your company. A materiality assessment will enable you to create a short-list of ESG priority topics that will ultimately inform company strategy, targets, and reporting.
A materiality assessment is the process of identifying and assessing potential ESG issues and opportunities and how they could affect your company's stakeholders and performance. If you have a company purpose – for example, Patagonia's is "we're in business to save our home planet" – your purpose will serve as a North Star and help clarify what ESG topics are important to your impact and the long-term success of your company.
For the materiality assessment, you'll create a materiality assessment project team, recruiting stakeholders from all functions including sustainability, corporate social responsibility, senior management, risk assessment and supply chain (to name a few).
During this stage it can be helpful to review established ESG frameworks (e.g. GRI and SASB), sector-specific regulations and standards, ratings and rankings (e.g. Dow Jones Sustainability Index, Carbon Disclosure Project), and research on wider social and environmental trends and challenges. However, keep in mind that there is no universally agreed-upon approach for determining material topics, so it's up to you to develop an approach that works best for your company.
Once your ESG strategy is set, you'll want to integrate a materiality assessment review within your overall business strategy process. The materiality assessment is an important lens to evaluate business risk and opportunity.
The second component to evaluation is understanding where you're at.
You'll identify your baseline by assessing where your company currently stands across your identified ESG priority topics. You'll assess your existing programs, policies, and metrics. To do this effectively, you'll pull together a cross-functional team within your organization. This team will probably include members from the ESG assessment team, as well as new members that have expertise in each priority ESG topic. This team will also be important in the Integration phase, when you begin to operationalize your ESG strategy.
Here you'll also benchmark how your company compares to industry competitors across the ESG priorities you identified. You'll create a scorecard using publicly disclosed information, determining where you have a competitive advantage, and where you have risk.
By understanding your current ESG baseline and benchmark, you'll be set up to gauge what's possible as you Formulate your ESG strategy.
2. Formulate: Setting the ambition and charting the course
Bring your leadership team and key decision-makers together to set the ambition by defining and aligning on moonshots across your priority ESG topics.
This step is critical. Your moonshots will set your ambition, focus the organization, improve company performance in your priority areas, and differentiate your company from competitors.
After your moonshots are aligned, ladder them to the United Nations Sustainable Development Goals (UNSDGs). The 17 UNSDGs, adopted by all United Nations Member States in 2015, provide a shared blueprint of the most urgent priorities to protect people and planet. By connecting the dots between your moonshots and the UNSDG's, you can clearly highlight how your company is contributing to collective action for the world's most critical issues.
With your moonshots identified, you'll run cross-functional strategy sessions to break your moonshots down into milestones and tactics. Here you'll identify the next steps on the path to your moonshots – charting your roadmap – while also highlighting and mitigating potential risks to reaching your milestones.
It's important to make sure there is functional representation across your organization in these strategy sessions. Each function within your organization is able to add expert insight into what is feasible and what is not. With this cross-functional group you'll identify clear and measurable outcomes that define success, and determine how you'll track key metrics and performance.
As the saying goes, "what gets measured gets done". If you're not careful, you can end up creating unintended consequences based on what you decide to measure and what you don't. In this step you'll spend time carefully determining what you'll track, how you'll track it (i.e. the process, the systems, and reporting), and how you can minimize subjectivity and human error throughout the process.
3. Integrate: Create a winning team that's set up for success
Effectively implementing an ESG strategy requires the integration of ESG into core business practices and processes. Appoint key responsibilities across your leadership team for implementation. This team will create a plan to operationalize the ESG strategy across your organization. This ensures accountability, sets in place a plan for implementation, and establishes a cadence to continuously evaluate goals, update data, and compare best practices.
As you determine how to operationalize your ESG strategy, your senior leadership team will discuss the support structure and resources needed to reach your goals. Creating an effective support structure will ensure your company and teams are set up for success.
4. Communicate: Reporting transparently
You've done a lot to get to this point! You've evaluated, formulated and integrated your ESG strategy by determining your ESG priorities, identifying your baseline and benchmark, setting ambitious moonshots and breaking them into short-term milestones, determining how to track and measure progress, and creating a winning structure and operationalization plan across your organization. Well done!
Now it's time to create your ESG report to share your ESG strategy with stakeholders, show strategy alignment to your business objectives (i.e. how this strategy is business-integrated and business-critical), highlight ESG policies and programs already in place, and communicate your future moonshots by sharing company-specific ESG goals and metrics.
The ESG report will need to be reviewed by your Legal and (if applicable) SEC Reporting teams to ensure it is consistent with your other SEC filings, and that data contained in the report can be traced back to internal or external records.
You'll set a regular cadence for ESG reporting (typically aligned with financial reporting). In each report you'll evaluate your progress across your ESG Moonshots and share important updates with your stakeholders.
Want help?
If you need help launching your ESG strategy and team, contact me at info@KathyVarol.com.
Sign up for my newsletter here for more insights on creating a purpose-led company, and driving profit with purpose.